Howto Create an Info Channel from a Presentation
Looped File Channel
All SnapTV servers are capable of playing video files as a "looped file channel". From version 2.18 the system will convert almost any video file to a compatible format automatically. If your server is on a older version you might haver to prepare the video files first. Use the steps descriped in Howto Prepare VoDs or upgrade your system to the latest version to get the automatic conversion feature.
Create Presentation
Make sure your presentation software is capable of exporting your presentation to video. Microsoft Powerpoint 2010 and Apple Keynote both have this capability.
You can include animations and transitions and video clips in your presentation. You can also add a narration or an audio track.
For best results use wide screen slides, high resolution graphics and a crisp font type.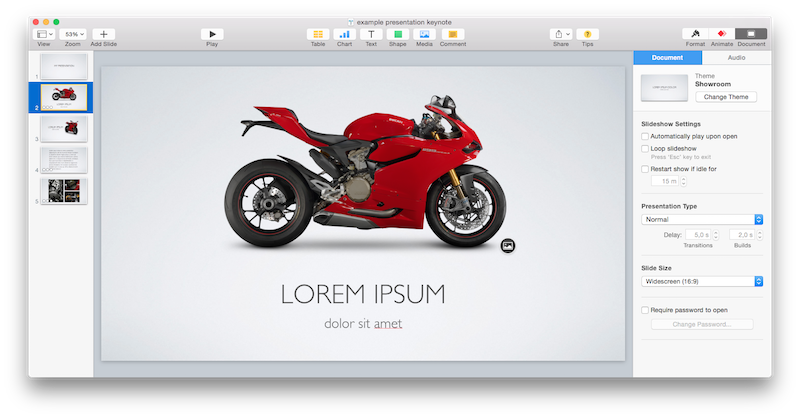 Export Presentation in Microsoft Powerpoint
Microsoft Powerpoint 2010 and later support exporting presentations as video.
open the File menu and click "Save & Send".
Under Save & Send, click Create a video.
Select "Computer & HD Displays" for the best quality
Set the number of seconds to spend on each slide
Click "Create Video"
See also this page from the MS Office support site: Turn your presentation into a video
Export Presentation in Apple Keynote
Open the "File" menu and select "Export to QuickTime..."

Set the slideshow and animation speed and select 1080p as video format.

Click "Next" and then "Export"
Create a Looped File Channel
Enter the IP of your SnapTV server in your browser and log into the web interface. Open the page "New looped file channel".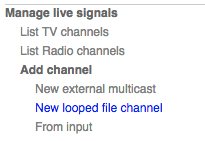 Enter a name for your TV channel and set a multicast address. If you click the magic wand button the system will suggest an address.
Check the "Transcode if necessary" option, upload the video file and click OK. Wait for the upload and the video conversion to finish.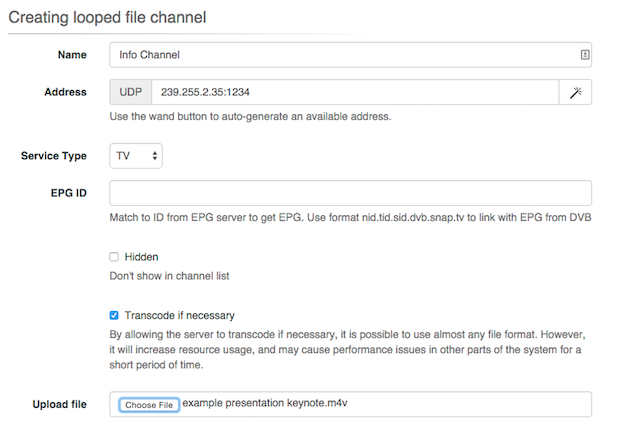 Thats it! Your presentation should be in the TV channel list and accessible from your set top box.
A Note About Transcoding
The live streams in the SnapTV system are all in the MPEG-TS format. When you upload a video file in the looped file channel menu the system will try to remux the video file to MPEG-TS. When remuxing the video format or container will be changed while the actual video and audio streams inside the container will not be changed. This process is fast and does not put the system under stress. The system will transcode the streams if they are not compatible and the "Transcode if necessary" option is checked. The transcoding can take some time and might cause disturbances to live and on-demand streams.